As an Amazon Associate, I earn from qualifying purchases. Thanks for your support!
So you want to buy someone a funny gamer mug? So you should, they deserve it after just spending two weeks of hard graft playing Fortnite!
Gamers are not everone's mug of tea, but they're my kind of people, spending all day indoors being anti-social. You ask them to get some fresh air and exercise and they stand up and open the window. Good on them, I say!
Joking aside, let's now check out my top 5 choices of coffee mugs for gamers, which are guaranteed to raise a smile.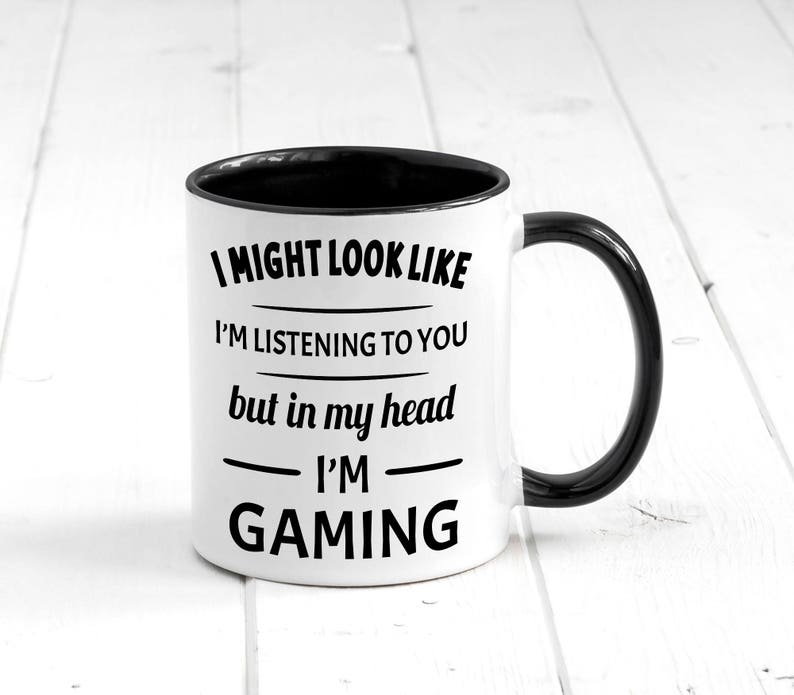 1. I Might Look Like I'm Listening To You Mug
Non-gamers know that trying to get through to a gamer is pretty tough at the best of times, and this I Might Look Like I'm Listening To You, But in my Head I'm Gaming mug perfectly describes most gamers! The mug is available on Etsy UK, and there is a choice of colour options.
2. Gamer Logic Mug
We all know a gamer like this! Someone who frequently acts like a toddler, throwing a tantrum (and their controller!) and blaming everyone but themselves for their demise in the game. Buy the infantile fool this mug and give them a reality check!
3. Born To Game, Forced to Work Mug
Well, this just about sums up every gamer I know, and who can blame them? How dare the government force someone to work when they're trying to earn decent cash stealing sports cars in GTA5. The perfect choice for gamers of all ages, this mug is exclusive to the supplier 123t on Amazon.
4. I Was a Gamer Before it was Cool Mug
Back in the 80s, gaming was seen as the pursuit of geeky teenage boys stuck in their bedrooms playing Samantha Fox Strip Poker on their Commodore 64. If you know an old school gamer who was their at the start of it all (he's the fat, bald guy with the tiny joystick), then this is the mug they need!
5. After This Coffee I'm Off For A Poo! (And to Play Games on my Phone) Mug
Ah, yes! Even when they're emptying their bowels, they continue to play games on their phone. Now, that's dedication for you. Buy them this pootiful mug, they deserve it!
Here is a bonus 6th mug which I just had to slip in…
6. This is What an Awesome Gamer Looks Like Mug
So you really want to makes a gamer's head even bigger? Okay then, if you're certain that's what you want, then you buy them one of these mugs to remind them how awesome they are at playing video games while drinking their favourite beverage.
I hope you found my list of the top 5 funny gamer mugs useful, and that it helped you choose the perfect mug. You may also like these Another 8 Hours of Pretending to Work mugs.