As an Amazon Associate, I earn from qualifying purchases. Thanks for your support!
This funny and rude I Love Tits mug will make a very amusing talking point, and it's the ideal gift for bird lovers, or just about anyone who likes a joke gift. Of course, this is a very useable gift, so the receiver will not only be very amused, but will also have a keepsake that they can actually use and drink their favourite beverage from.
This would also be an excellent bird watching mug / gift idea for the recipient to take on a long session with them, or simply for daily use in the home, office or workplace.
The design is printed on both sides of the mug, and it has been hand decorated right here in Great Britain. It's also dishwasher and microwave safe. This mug is also highly rated by customers, and as it ticks all the right boxes, it's my top choice.
Also being sold by the same company (Mug-Tastic), is this alternative I Love Great Tits mug, which takes the joke even further. So if you know someone who is a very fond of great tits, then this is the mug for them!
This is a particularly nice design which I found on Etsy, and features a matching black handle and rim.
The joke can be extended further with this I Love A Nice Pair of Tits mug which I found on Etsy. They are, indeed, a lovely pair!
I found this gorgeous Blue Tit mug with pattern at I Like Birds, and it almost has a 70s vibe to it. It's an original choice and unavailabled anywhere else. You can also buy matching coasters and placemats. By the way, the wooden block is not included – darn!
This mug would make a really nice bird watching gift, and is being sold by Bag-a-Mug on Amazon, and features all of the different varieties of tits (blue tit, coal tit etc.) that can be viewed. Once again, the customer ratings are very high, and this one is made in the UK, which is always a bonus.
You may also like this Nice Tits mug which I found on Etsy. You can also compare with the Amazon price below…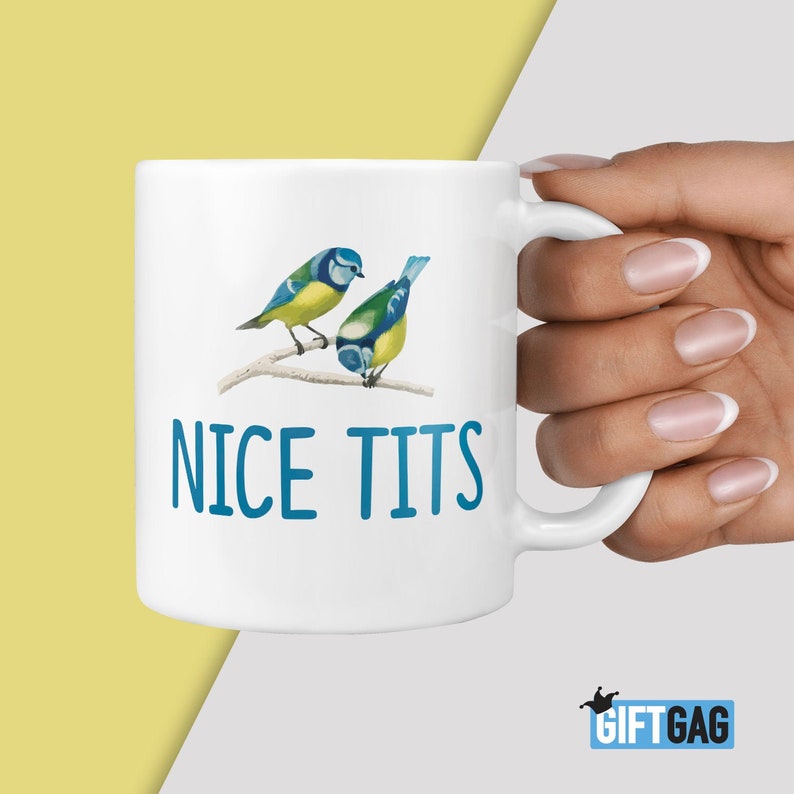 Here is another nice tits mug I like featuring a pair of tits in flight, which is being sold by Ellisgraphix on Amazon.co.uk. This one features a vivid, fade resistant print with bold colours.
I hope you have enjoyed browsing my selection of funny I Love Tits mugs. You may also like these For Fox Sake mugs