As an Amazon Associate, I earn from qualifying purchases. Thanks for your support!
This hilarious 5 Days with You Twats, 2 Days of Bliss mug for your work colleagues (great for a secret Santa gift!) is guaranteed to get laughs – it's funny, it' rude, what's not to like?
This design is exclusive to Brain Box Candy, and you can get it directly from their website or on their Amazon UK shopfront.
The mug (which is made in the UK) comes in a gift box and is receiving high praise from customers. The price is very reasonable, and it will arrive well packaged to avoid breakages.
You can also buy the mug with a matching coaster.
You may also like these alternative colours…
This alternative 5 Days with You Twats mug is more expensive, but it can be personalised with the receiver's name. I really like the combination of grey lettering with the orange and blue. This one is available at Muggz.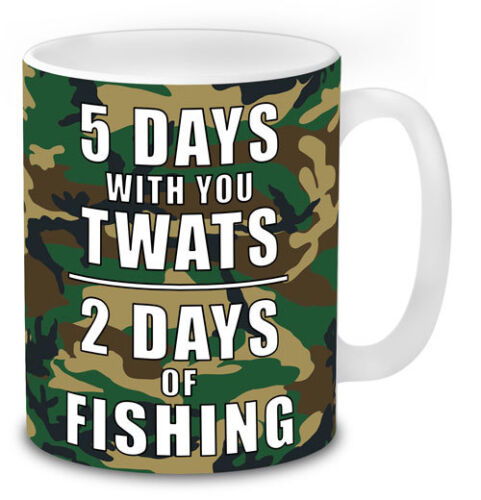 I found this 5 Days with You Twats, 2 Days of Fishing mug on ebay, which has a camouflage theme. The listing may have disappeared by the time you're reading this, so I recommend doing a search for it on the site.
You may also like this Another 8 Hours of Pretending to Work Mug