As an Amazon Associate, I earn from qualifying purchases. Thanks for your support!
Mr Villan Mug – Number One Fan
This is one of the most popular mugs for Aston Villa fans, and it's my top choice in terms of design and price. It's based on the Mr. Men characters and this is an official, trademarked Mr. Football design. The mug comes gift boxed and features a matching black handle and inside.
Official Aston Villa Dressing Room Mug
My next choice is this official dressing room mug which you can personalise with the recipent's name. What villa fan wouldn't like to see their surname of a claret and blue shirt? This mug is available from the official store on Amazon.
Villa Park B6 Street Sign Mug
Having your name added to a real Villa Park street sign is never going to happen. However, here we have the next best thing. With this official mug you can add the recipient's full name to a graphic of a Villa Park street sign. It's an awesome idea, and is guaranteed to bring a smile to the face of any fan.
Official AVFC Emblem Travel Mug
This is the most expensive mug on the page, but it really does look very stylish. This is an official AVFC travel mug featuring the lion emblem. It's made from aluminum and would be ideal for a Villa fan to take to matches, or who simply likes outdoor travelling, camping, fishing, hiking etc.
Rude Villa Fan Peeing Mug
If you prefer your mugs to be funny and/or rude, then this one is certainly both! There has long been a rivalry between Birmingham City and Aston Villa, and this mug features a Villa fan urinating on a Birmingham City shirt. It includes the message "We'll always be the best and we piss on the rest."
Eat, Sleep, Drink Aston Villa Mug
This fully licensed mug would make a great gift for anyone who thinks about their beloved club no matter what they're doing! You can also personalise it with the recipient's name on the reverse side, which features the Villa badge.
Carabao Cup Finalists 2020 Mug
Although they lost to Manchester City in the final, Villa fans can still be proud that they made it to the final, especially given that they haven't been particularly successful in recent years. This unique mug is guaranteed to be well received.
The Only Cup I'll Be Getting Funny Mug for Villa Fans
You may prefer to wind-up a Villa fan by reminding them that they they haven't won any silverware in quite a while. It features a trophy and fottball graphic with the message "I support Aston Villa and this is the only cup I'll be getting this year". A very funny novelty gift idea.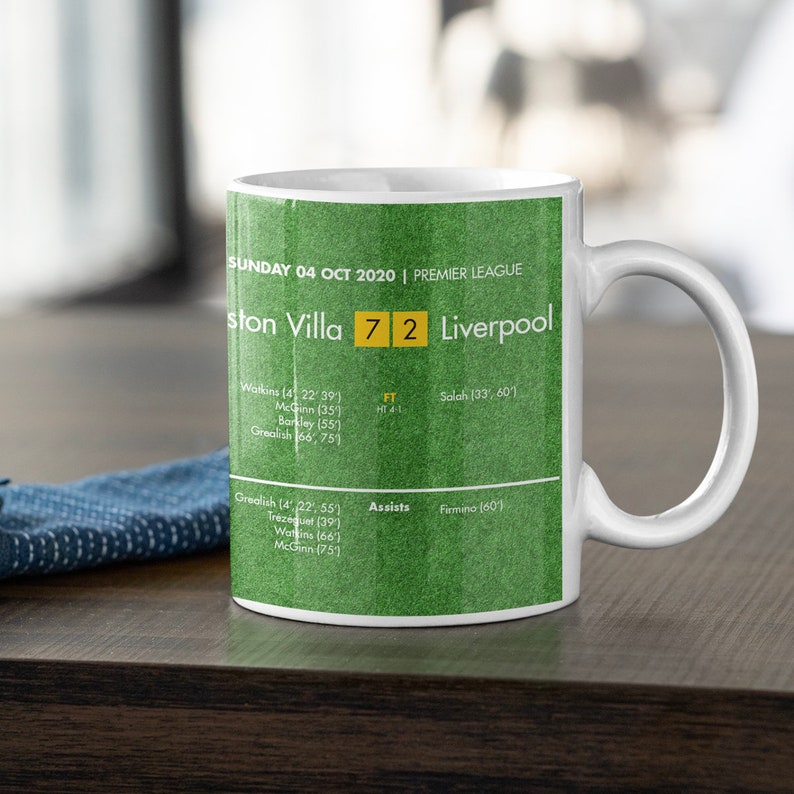 Aston Villa 7 Liverpool 2 Mug
This unique mug commemorates Villa's fantastic win against Liverpool on October 4th 2020. This mug is available from Etsy and is highly rated by fans.
I Can't Keep Calm I'm A Villa Supporter Mug
"Keep Calm" products have been very popular in recent years, but when you're a Villa fan, you know the stress induced by the erratic nature of their scorelines. This "I Can't Keep Calm I'm A Villa Supporter" mug defines what being a fan is like, just perfectly!
There is also a choice of villa mugs at the official Aston Villa online store.