As an Amazon Associate, I earn from qualifying purchases. Thanks for your support!
Do you know an impatient person who would really appreciate this very funny (and very rude!) mug? Maybe it's a work colleague, a friend, or possibly a family member?
Featuring the message "I Have The Patience of a Saint. SAINT CUNTY McFUCKOFF", this mug certainly doesn't pull any punches. Offensive it may be, but it's also f'in hilarious, and will be well received by that certain someone who really appreciates a funny and rude mug.
Using high quality inks, the mug is produced by Coralgraph Inc. and is despatched by Amazon.co.uk.
Customer feedback for this very popular mug is extremely positive, and while it's not the cheapest mug to feature the message, you should, at least, receive a decent quality mug with a smudge-free print.
I've also hand-picked these other two designs for you to take a look at, which really caught my eye, one with angel wings and the other with the graphic of a saint – I love the zig zag stripes on the box!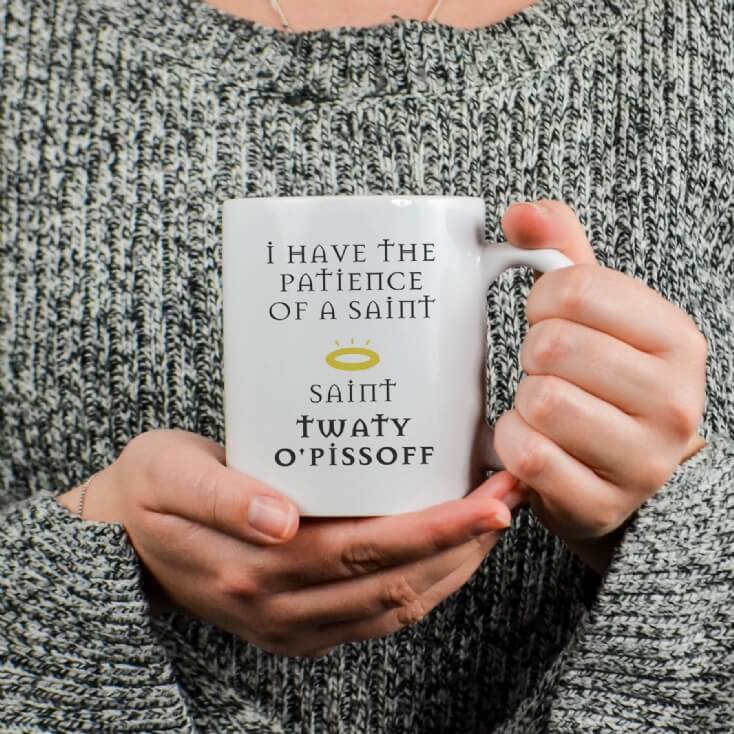 I discovered this alternative Saint Twatty O'Pissoff mug at findmeagift.co.uk., which is very reasonably priced at just £5.99 as I write – this is subject to change, of course.
Now, of course, there are other mugs available online featuring the same Saint C*nty message, but many look rather basic and cheap. If you're going to deliberately offend someone, then send them a decent mug, at least!